Dear employee,
We are delighted that you have become a member of the nursing-care staff at the Matav Association!
The nursing care profession you have chosen is the foundation of our activities. This work is a vocation and requires great kindness. We recognize and appreciate your work, and we want to take this opportunity to say – thank you.
The Matav Association is the longest-standing and largest association in Israel engaging in nursing and support of the elderly.
Matav specializes in developing and providing services to senior citizens, welfare services, as well as a wide variety of services to children and to people with disabilities, and operates the foster care service in the northern district.
Matav operates more than 50 points of service nationwide that provide services in all communities in Israel and for all population groups.
The profession of nursing care that you have chosen to engage in is our core activity.
This is a profession with a mission that is entirely benevolent: Matav customers begin each day anew thanks to our caregivers, and members of their families also enjoy a better quality of life and full exercise of their rights.
Your dedicated work enables people to get up in the morning, to get dressed, to eat and, in many instances, to also maintain personal hygiene and become familiar with their environment. This is challenging work that requires emotional capabilities and unique professionalism.
Your role is the most important link in Matav's chain of services.
All of us together are responsible for providing professional, sensitive and proactive service to our patients and their families: each in his or her own role and as a team, while taking initiative, assuming responsibility, sharing information and, of course, while strictly following procedures.
We are aware that you have come to a foreign country in order to work here, and we are aware of the great difficulty involved in doing so.
Therefore, it is important to us that you know that we appreciate your work and your contribution to the elderly and to members of their families.
For your convenience, we have assembled important information for you about the Matav Association, about your rights and about the benefits to which you are entitled within the framework of your work at the Association.
1. Professional training
We, at Matav, believe in professional training, and we invite you to participate in a variety of classes and courses that bestow a certificate upon completion.
Among the professional training courses:
Elderly nursing care training course at full pay (about 30 hours):
a. Theoretical training (24 hours): basic familiarity with the world of the elderly, communicating correctly with the elderly, components of the role of caregiver, cultural codes, principles of basic care, introduction to services in the community.
b. Practical training (6 hours): practical experience in nursing care wards in hospitals.
Graduates of this course receive a certificate.
Training in a variety of subjects, such as:

preventing abuse and neglect, mental infirmity and more …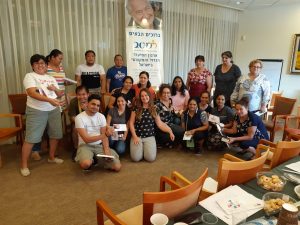 2. Exercising your rights
It is important that you familiarize yourselves with your rights and obligations here in Israel.
The address below links you to information summarizing all of your rights as a migrant worker in a variety of languages (on the website of the State of Israel's Population and Immigration Authority):
https://www.gov.il/he/departments/general/foreign_workers_rights_booklets
3. Employee welfare – only at Matav
a. Holiday gifts – twice a year, for the Israeli holidays (the New Year and Passover), you are invited to select the holiday gift that you prefer from our website.
Gifts include: gift voucher for a variety of retail chains, and a variety of gifts to choose from.
b. Trips and welfare activities – you are invited to join a pampering one-day tour throughout the country, which includes organized transportation and a full lunch. You are also invited to participate in a variety of welfare activities at our various branches.
c. Birthday commemoration – we believe in providing personal attention to every employee at Matav, including by commemorating birthdays. We contact every employee on his/her birthday to say "mazal tov" (congratulations) and invite employees to a monthly birthday get-together.
If you have any question or uncertainty, please feel free to contact us. We are here for you, in order to provide you with guidance and assistance in relation to any matter pertaining to the care of an elderly person and/or in relation to any other matter.